Earlier this week, we went and picked out our stone for our vanity counters. This stone will be used in both our kitchen and bathroom. They came out and measured everything and said it'll be about two weeks including installation. So, I'm crossing my fingers we'll have countertops by week 6!
Keeping in mind that we are doing kitchen and bathroom all at once, that's double the work for the same subcontractors. We got our first quote for painting (which includes all of our kitchen cabinetry) and it was high, so we're now playing the waiting game of getting other bids. Can't wait to see our vanity painted this color.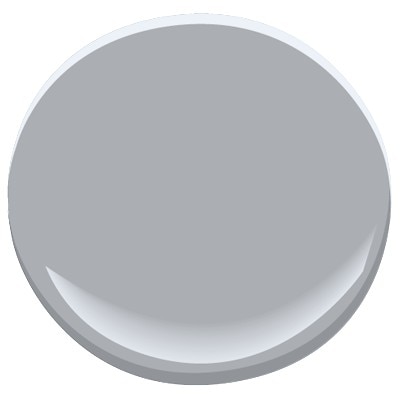 BM Pigeon Gray
Last week, I told you about our tile guy moving at a snail's pace. He had the floor of the shower tiled and that was it. My husband and I are used to doing all the work ourselves, so we can't help but compare it to our pace. This week, we're still snailing right along but we've got the shower walls and wraparound wall tiled as well. Keep in mind, none of the walls are grouted. We're all anxious to see some flooring go into this space that way our plumbers can come back and get moving. Right now when I walk into the bathroom, all I see is this shower of tile. I know I need to stop obsessing over it because there will be so much more added to the space soon enough. Here we are now.
Then surprise! I walk in last night and this is down...
Can you even believe it? Well maybe you can, but I couldn't. Do you think the paint color for the vanity will still work? Thinking of going buy paint samples this week to test everything out.
My other big update is that my mirrors came in that I talked about last week. They're soooo pretty in person and a little asymmetry is going to A-okay as far as I'm concerned if it involves these mirrors.
Head back to
Calling It Home
to see all the other awesome rooms!