We all know by now that our loose interpretation of how this fireplace will come out is based off of this picture for many reasons. One reason is I love how the bookshelves have a layer of sheet rock at the very top and they don't take away from the mantle/fireplace feature. Now look at the tile around the fireplace. Instinctively, I loved the dark tile - but kinda thought it didn't really meet my taste.
Source Unknown
Soooo I very well could've gone this route...
Which is beautiful too. I love light colored marble as you saw in my
finished bathroom
. However, I KNOW that I want to do this white & grey marble for my kitchen - so I thought let me explore the dark option a little bit more. What I'm starting to find about myself is that I like to go into each room in my house and feel like it's not one big run-on sentence but each room is an exclamation point all by itself. That should be on a poster. Then when I saw
this post
from
Little Green Notebook
- I was totally hooked. Even though she painted her fireplace mantle black, we have the same vibe going, I like to think.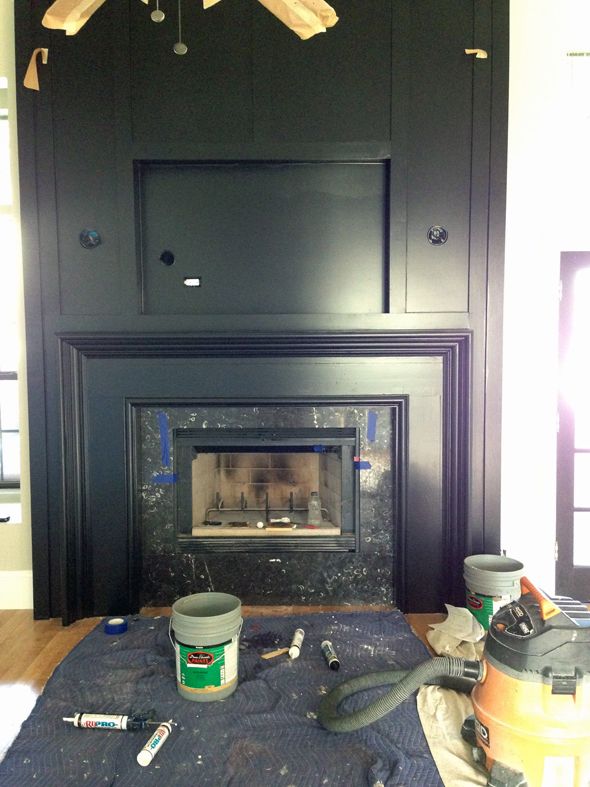 Not surprisingly, I ended up going the darker route with
these
tiles from Home Depot. It's kinda shimmery in person. We also went with charcoal colored grout.
I can't wait to see these little suckers go in & that paint to go up. Oh what a happy day that will be! In fact, that happy day will be tomorrow! Anyone else have a bold fireplace mantle?