So, anyone ever had this problem before? In our tiny bathroom, we are only able to do a tub. There's a big window along the wall of the tub so it would've been quite the task to figure out what to do with that to make that space a shower. I'm sure we could have figured it out, but let's face it, we need a functioning bathroom asap.
And that's not even the problem. The problem was that since there wasn't a shower, we only needed the type of wall mount faucet that had the two handles and the faucet. The problem lies with the fact that most modern day bathrooms have this type of plumbing hookup.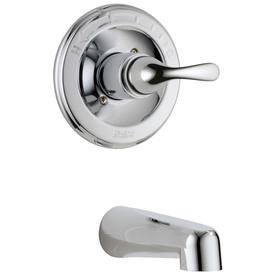 To go along with modern day plumbing, comes along modern day consumer-ship (is that a word?). Aka it's HARD to find the type we need in our price range. I even googled images for a good 30 minutes to try and find what I'm trying to tell you what we had previously and I could.not.find an old brass wall mount faucet. Seriously, go look at Lowes or Home Depot and see if you can find one of those two handle wall wonders. Even a modern version of what I'm talking about. Frustrating.
So the search kept on going. Because let's face it, Josh isn't re-configuring all the plumbing. I know because I asked him when I had found a fixture I wanted. Not to mention, he's already redoing the existing plumbing himself because a piece is broken. Just when I'd lost all hope. I found THIS little guy.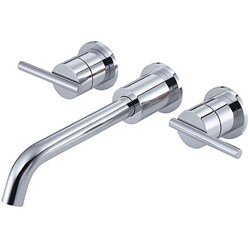 A modern day two handle wall mount faucet. Yahoo! When I found it, it had a big pricetag. So, off to eBay I went. I happened to find it just sitting there waiting to be purchased for $62. Now, I don't know if you've shopped around for faucets before, but those suckers are expensive. This was a DEAL.
Time to match the vanity faucet. I knew I had to have a centerset faucet because that's what my vanity calls for. And I knew it had to be chrome to match the bath faucet. As luck would have it, I found this little jewel.
So, it's not exact. Not the same make. The handles are a little bit different. But, I'd say it's like a first cousin to the wall mount fixture. Done! Plus, they're both chrome. Josh says this looks like the less classy cousin of the two - I guess everyone has their opinion.
After all were happily in my online shopping cart and I pressed submit to all my orders, I realized, "wait, my vanity light and my vanity hardware are brushed nickel." Big sigh. Let's just say that all these fixtures will soon be happily married all together. Matchy matchy is out anyway, right? Modern times, people.